 Superhero Skate!

Come meet your favorite Superhero at this special event!!
Saturday, February 19
1:30-4:30pm
Spiderman, Batman, Superman, Captain America, Wonder Woman, the Teenage Mutant Ninja Turtles, Power Rangers, and more will be there! Feel free to dress up if you'd like to, we'll have some free give-aways too!
$8 Admission
$2 Roller skate rental
$3 Rollerblade rental
Only $5 for parent admission
Skate-mates, Fisher Price skates, & strollers available
Snow-Coming High School Formal Dance!
 Dress up in your formal attire and come to our version of a SnoCo High School Formal Dance on Saturday, February 19 from 10pm-12am! 
We'll be hosting a dance party complete with DJ & sound system, laser light show & photo opportunities, help us spread the word!
This exclusive event is welcoming all current high school students with a valid student ID from the following schools:
– Jenison
– Grandville
– Hudsonville
– Byron Center
– Wayland
– Zeeland
– Unity Christian
– South Christian
– Calvin Christian
-Tri-Unity Christian
Tickets to be purchased at the door at 10pm
$15 per person, no reservations required.
For every ticket purchased there needs to be a valid school ID from one of the schools listed above. Students from any of the schools on this list may each purchase one guest ticket if their date goes to a different school.
* This is a dance, not a skating party so wear your dancing shoes! 
* We will be checking IDs at the door
* If you are interested in chaperoning, please email us at

[email protected]


* No outside food, drink, or large bags/purses will be allowed in 
* No re-entry allowed. 
Glow Night Late Skate!
Join us for a glow-in-the-dark skating party on February 25!
Free glow stick with admission to either our 7-10 session or this special LATE SKATE 10pm-12am party!
7-10:
$10 admission
$2 roller skate rental
$3 Rollerblade rental
10-12:
$5 admission
Rental included if purchased during 1st session
Skate one or both sessions!
Learn to Skate!

Our next round of Beginner Skating Lessons will begin on January 8, for more details check out our Skating Lessons page where you can register for our classes!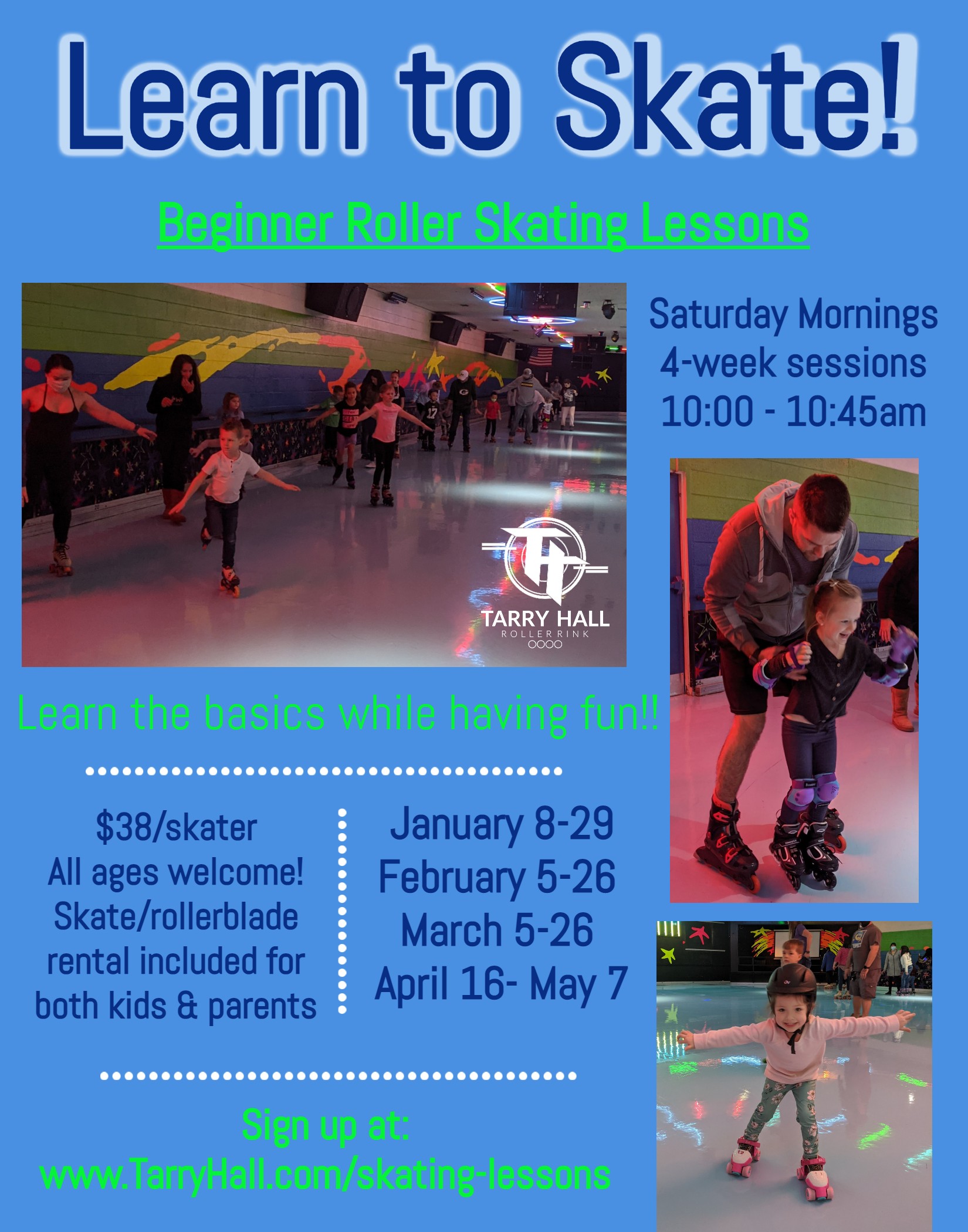 Sundays
2:00pm – 5:00pm
Admission $8.00
Roller Skate Rental $2.00
Rollerblade Rental $3.00
Parent Admission $5.00
Thursday Nights
Adult Skate 18+
8:30pm – 11:00pm
Admission $8.00
Roller Skate Rental $2.00
Rollerblade Rental $3.00
Fridays
7:00pm – 10:00pm
Admission $10.00
Roller Skate Rental $2.00
Rollerblade Rental $3.00
Parent Admission $5.00
Saturdays
1:30-4:30pm
6:30pm – 9:30pm
Admission $8.00
Roller Skate Rental $2.00
Rollerblade Rental $3.00
Parent Admission $5.00
Under new ownership and open for business!!

Tarry Hall Roller Rink opened in 1959 with a goal to provide a safe and enjoyable family experience. With a dedication to the community through our support to local schools, churches, private and civic groups, we strive to go beyond the standards in family entertainment. Your family is our family.
Tarry Hall Roller Rink is located in Grandville, MI and was recently purchased by 2 couples who met at the rink, skate together on the speed team, and have a passion for this place and for roller skating. The new owners BJ & Jenny Steketee with Dave & Heather Niemeyer would love to invite you and your loved ones out for an awesome time strapping some wheels on your feet, getting the kids off the screens, and getting moving. We would love to host your next family gathering, birthday party, wedding reception, you name it!
Please Take Notice…
Roller Skating is a strenuous and fast moving sport. By putting on skates and participating in this form of recreation you are personally assuming the risk of an accident inherent in this and any similar sport. It is in the nature of this recreation that people fall down or run into one another on occasion.
If you are not willing to assume that risk, please do not roller skate here. If you doubt your ability to roller skate, please consider this notice before proceeding on to the floor. We can not be responsible for any injuries which occur to our patrons while they are present in this facility. 
Safety First For Our Skaters
In an effort to maintain a safe skating environment for our skating guest and to abide by insurance regulations please note the use of heelys, hoverboards, skateboards or push scooters are NOT allowed on the skating floor. 
We will allow the use of wheelchairs or strollers to be used on the skating floor providing they are pushed by an adult at what management deems a reasonable pace. 
Non Skaters / No Entry
During any public skating session we DO NOT allow any kids to come into the rink that are not skating. A ticket must be purchased with skate rental if needed and skates must be on their feet. We only allow parents that have kids skating to enter and stay without paying or having skates on. We are not a hangout for non skaters. If you're coming to the rink we assume you come to skate. Thank You!
West Michigan Wolverine Speed Skating Team
The Wolverine Speed Team is associated with the Great Skate Wolverines in Roseville, MI. Partnered together with World Team Coach Jay Ingram, the West Michigan Wolverines Speed Club provides world class coaching out of West Michigan. We are dedicated in teaching athletes of all ages, and skating abilities. Whether they have put on skates for the first time, are a dedicated competitive skater, or just here for the exercise, we strive to assist in the journey to their goals. As coaches, we not only teach the specifics about inline speed skating, but we aim to mentor a young generation in the world of sports and help them achieve greatness.
Contact Jenny Steketee at [email protected] for more information about how to join and what our practice schedule is!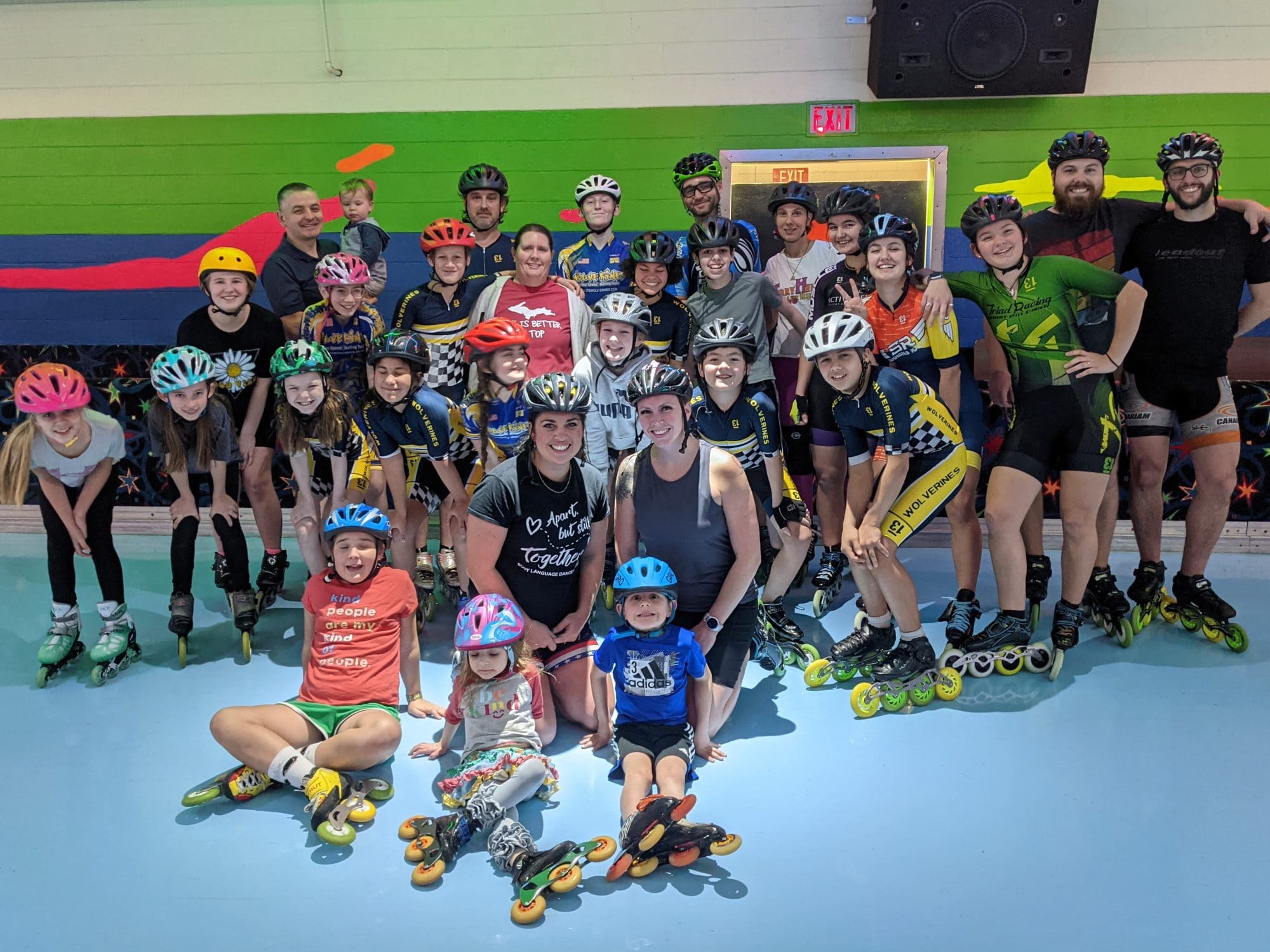 What do you offer?
We offer many weekend and seasonal public skating sessions, private and public skating parties, large group rates, as well as fundraising opportunities.
Rent our venue!
Contact us for custom pricing to host your event here. Weddings, receptions, family reunions, sport team parties, bachelor/bachelorette parties, you name it!
Can you describe your facility?
Our facility has accommodations for 350 skaters. We offer a large fully stocked snack bar as well as roller skate and rollerblade rental.
Our top of the line 5,200 watt sound system, and stunning light show ensure the highest level customer experience.
We offer many weekend and seasonal public skating sessions, private and public skating parties, large group rates, as well as fundraising opportunities.
What kind of music do you play?
We feature music including:
Top 40
Pop
Rock
Hip-Hop
Country
Dance
Christian